Non-Dairy is Here!
view online

FLAVOURS
SCOOP SHOPS
VALUES
WHATS NEW
FIND US
---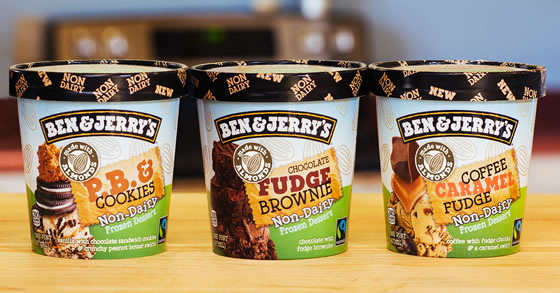 Just when you thought you couldn't wait another day for Ben & Jerry's Non-Dairy...you don't have to!

We are thrilled to announce three fully euphoric, non-dairy frozen dessert flavours with all the creamy texture, funky chunks and sweet swirls you know and love—but made with almonds. Dig in!



Coffee Caramel Fudge:
Coffee with fudge chunks & a caramel swirl

PB & Cookies:
Vanilla with chocolate sandwich cookies & a crunchy peanut butter swirl

Chocolate Fudge Brownie:
Chocolate with fudge brownies


How do I Find Ben & Jerry's Non-Dairy?
It might be a little hard to find at first as it makes its way to a freezer near you beginning February 27th, 2017. Here are a few tips:
• Look in the freezer aisle near other frozen non-dairy products.
• When in doubt, call your local store and ask if they have it yet.

Have you tried it? Let us know what you think @benandjerrys!!




This email was sent to you by Unilever Canada Inc. If you have any questions, please contact our Consumer Services Contact Centre by sending an email to privacy.canada@unilever.com, calling 1-888-568-7644, or writing to the Unilever Canada Consumer Services Contact Centre, P.O. Box 38, Saint John, New Brunswick, E2L 3X1, Canada.

If you no longer wish to receive commercial electronic messages from Unilever, please click here.

You can update your email preferences by clicking here.

Ben & Jerry's ®
30 Community Drive So. Burlington, VT 05403
benandjerrys.ca | privacy policy